If you are on a trip across Japan, then in Shizuoka you will find some fascinating things to do. From Kawazuzakura, a cherry blossom viewing spot, an art museum, a museum for the Japanese Self-Defense Force, and Japan's largest outlet mall can all be found here. So why not take the short trip from Tokyo, and visit Shizuoka:
Kawazuzakura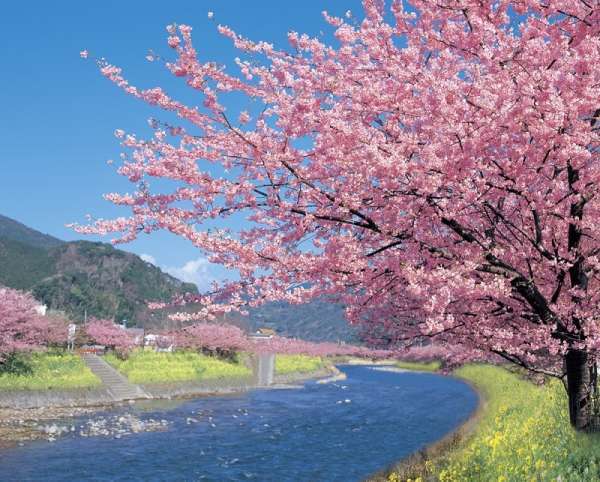 (image by 写真提供:静岡県観光協会)
Kawazuzakura are early-blooming cherry blossoms that open up in early February in Kawazu, Kamo District, Shizuoka Prefecture. They are characterized by their big flowers and a color that is even pinker than Yoshino cherries. The 4km cherry-lined path along the Kawazu River has blossoms that take about 1 month to reach full bloom after they first open. Since the time to full bloom is so long, you can take your time appreciating them during the flower-viewing season. The legend of the Kawazuzakura began when a new species of cherry was discovered in the same town about 60 years ago. The original trees spread from Kawazu Station toward Mt. Amagi, and are located in the 1.2km site of the Iida Residence Garden in the Tanaka district of Kawazu.  
The Kawazu Cherry Blossom Festival is held during the 1 month from early February when the Kawazuzakura begins to bloom. The cherry blossom-lined path along the Kawazu River comes alive with many visitors coming to view the flowers. During the middle of the festival, around 150 stands make their daily appearance selling local products and foods so that people can enjoy shopping and eating while admiring the blossoms. After sunset, the Kawazuzakura areas going downstream from Yakata Bridge and from Mine Onsen Toyoizumi Bridge behind the Odoriko Onsen Hall are illuminated. At that time, there is a magically beautiful scene that is different from the daytime.
Admission: Free
- Guidebook from Planetyze about Kawazuzakura
- Reviews from TripAdvisor about Kawazuzakura
- Tours of Kawazuzakura
MOA Museum of Art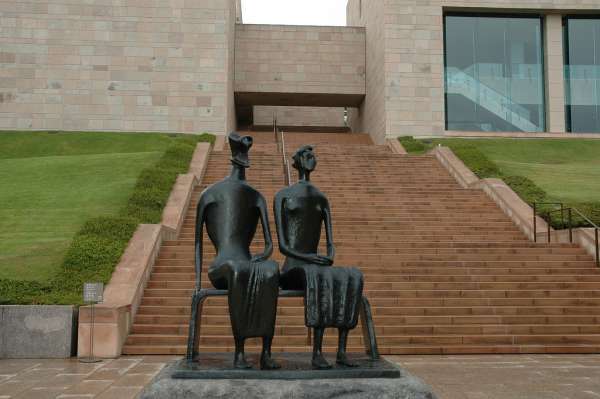 (image by flickr.com)
The MOA Museum of Art is at the top of a steep incline and can be reached by bus from JR Atami Station within 7 minutes. Based around the collection of founder Mokichi Okada, there are 3500 works which include 3 National Treasures, 65 Important Cultural Properties and 46 important works of art. It's not just the full display of the museum but also the beauty of the location that is famous. From the main lobby, a grand panoramic view of 180 degrees can be enjoyed which include the sight of Hatsushima and Izu-Oshima Islands, along with a view from the Boso and Izu Peninsulas right up to the Izu Peninsula.  
The 3-floor Main Building contains the display of art works. Within its 9 galleries, National Treasures, Important Cultural Properties and important works of art are on display. The wide-ranging works include paintings, writings, handicrafts, and sculptures. The East Asian art which centers especially on Japan and China has been praised for its artistic value and as subjects of research. Even within this fine collection, a particularly famous work is Korin Ogata's "The Folding Screen of Red and White Plum Blossoms" (National Treasure) which is a supreme Japanese work of art that has been featured in Japanese textbooks. Afterwards, Ogata's Rinpa style of painting not only influenced Japanese art of later generations but also had a large effect on the artist Gustav Klimt 200 years later. However, this particular work can only be viewed for just one month a year from February to March since this is not part of the permanent display.
After appreciating the numerous works of art, why not take a break in the tea garden Ippaku-an? It was designed by master teahouse designer Nahiko Emori who had also been responsible for the tearoom at the Japanese embassy in Washington. With Western-style seating, you can enjoy matcha tea and Japanese confections that were organically made at MOA. Around Ippaku-an, there is the restored Korin's Residence, the house of artist Korin Ogata and other highlights such as the Karamon and Katagiri-mon Gates. You will feel as if you've taken a trip back to the Edo Era.
Admission: ¥ 1,600 
- Guidebook from Planetyze about MOA Museum of Art
- Reviews from TripAdvisor about MOA Museum of Art
- Tours of MOA Museum of Art
Gotemba Premium Outlets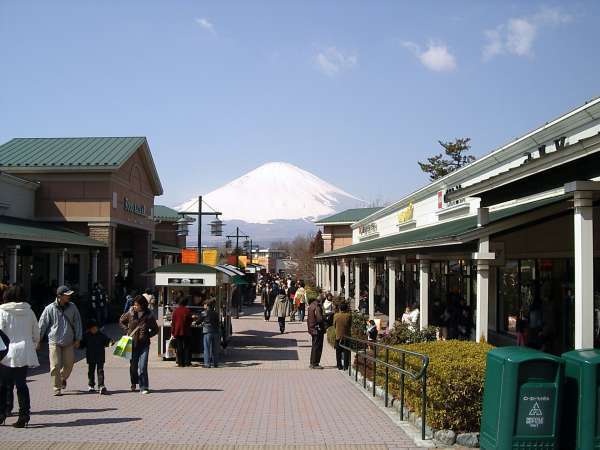 (image by upload.wikimedia.org)
Gotemba Premium Outlets is Japan's largest outlet mall which is located 5 minutes away from the Tomei Expressway Gotemba Interchange by car. It can also be reached by a free shuttle bus that takes about 10 minutes from JR Gotemba Station. It is known for its many designers' brands, but the mall also has plenty of goods dealing in the outdoors, sports, interiors and other products. In the middle of a valley, the mall is separated into a West Zone and an East Zone which are linked by a bridge. The main entrance for the entire mall is located in the West Zone so transportation such as the shuttle bus will stop here. The East Zone is right by the outer rim of Hakone Crater, and on its side there is a rose garden and a Ferris wheel. Shopping is certainly an option, but enjoying the epic Mother Nature that includes Mt. Fuji and Hakone is also a big attraction.
Gotemba Premium Outlets with its 210 shops is certainly big. So it's advised to map out where you want to go beforehand since an English floor map is also available. The floor map can be downloaded from the homepage. Plus the smartphone app "Premium Outlets Shopping Navigator" is also recommended. Once you register as a member for free, you can obtain things such as discount coupons. All you need to do is just show the screen on your smartphone and the outlet costs can also be further discounted.
If you're bringing the kids for shopping, head for Kidsland at the back of the East Zone. There, the Ferris wheel is something to try. On good-weather days, you can view the grandness of Mt. Fuji. In the rest of Kidsland, there are also plenty of electric rides including a merry-go-round, a bus you can steer and a digger that you can operate.
Admission: Free
- Guidebook from Planetyze about Gotemba Premium Outlets
- Reviews from TripAdvisor about Gotemba Premium Outlets
- Tours of Gotemba Premium Outlets
Air Park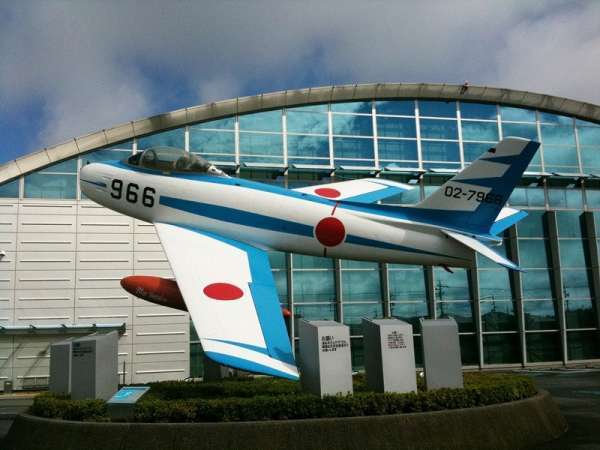 (image by flickr.com)
Air Park is the first JASDF theme park. Abundant information related to the Self-Defense Forces can be found at the 3-storey Exhibition Museum, the Display Hangar where actual planes and the like are shown, and the Zentenshu Theater where you can feel like a pilot on the spectacular big screen. The park is located at the south side of the Hamamatsu base for the JASDF, so if you are lucky, you can see the arrival and takeoff of active training planes.  
The one place that is irresistible for plane lovers is the Display Hangar. Beginning with the Zeroes that were in operation during World War II, 19 planes that have been used by the Japan Air Self-Defense Force are on display. You can even sit in the cockpit of some of these planes. Also, the authentic electric flight simulator for two is popular for getting that feeling of a pilot. As you can choose the level, even novices can enjoy the simulator. At the Display Hangar, along with the many planes there, flight suits used by the JASDF pilots are also on display. You can even try them on for 15 minutes although the helmets are replicas. There are sizes for people from 3 years of age to adults, so the experience is recommended to take that commemorative photo with the whole family.  
After touring the park, take a break at Sky Lounge Fuji. Located at the most scenic spot at Air Park, you can see planes arriving and taking off and even Mt. Fuji on clear days. Museum Shop Tsubasa is perfect for searching for those souvenirs. There are plastic models of JASDF jets, along with T-shirts and caps, even Hamamatsu Base senbei crackers and other snacks that you cannot obtain anywhere else.  
Admission: Free
- Guidebook from Planetyze about Air Park
- Reviews from TripAdvisor about Air Park
- Tours of Air Park
View the updated Cherry blossom forecast and plan your trip: Japan Sakura Cherry blossom forecast
Best Virtual Tours & Experiences in Tokyo
Looking for an authentic travel experience in Tokyo but still stuck at home? No problem! Why don't you start by taking a Virtual Tour for a moment's escape from the mundane and chaos with our professional guides in Tokyo?
Top Experiences:
→
More Tokyo Virtual Tours & Experiences