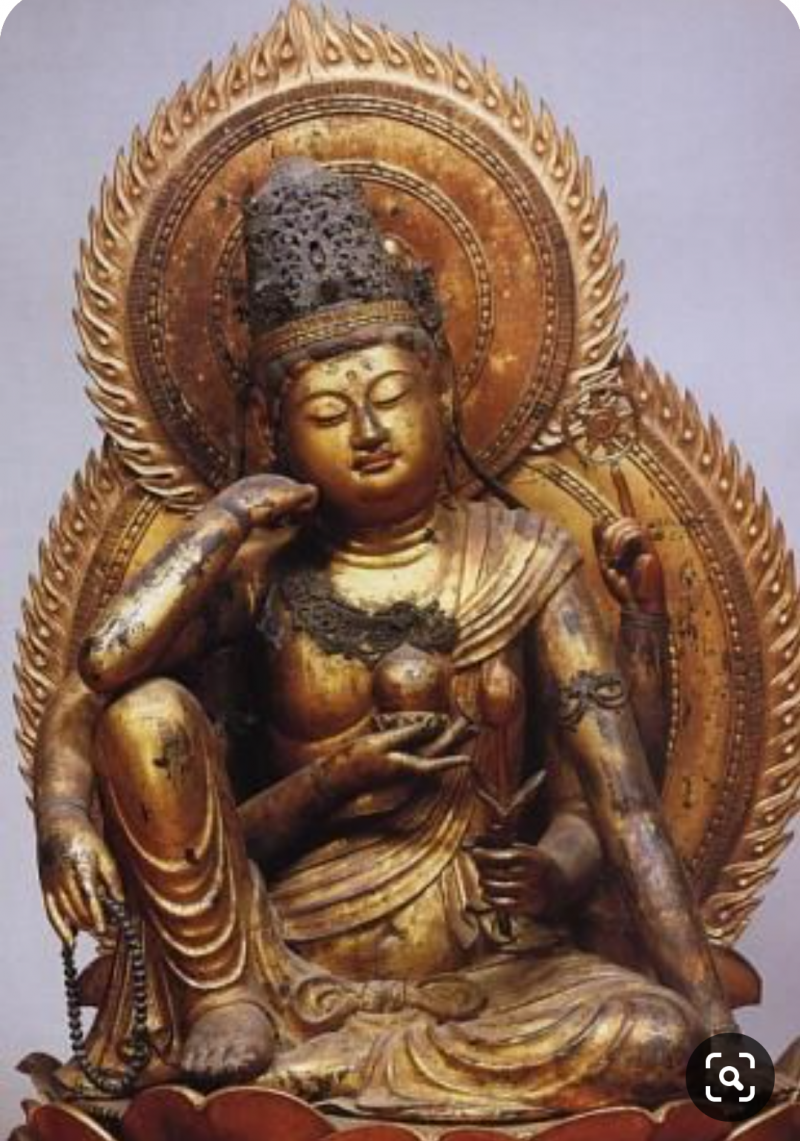 Since I began studying as a tour guide, I have had so many chances to see Buddhist statues at many temples and museums, and  recently, I saw (found!) a cute Buddhist statue which melted my heart on a website page. The picture had no name of the statue and the place where the statue is. (There are many temples which hold Nyoirin Kannon in Japan.) I reserched and learned that she (Kannon Bodhisattva is said to be neither a male nor a female, however, Nyoirin Kannon seems to be a friendly female for me, like a mother) is at Daigoji Temple in Kyoto.
I visited Daigoji Temple...How moving it was to meet her!  She was sitting and meditating in the museum building of the temple. She is only about 50 centimeters tall. Almost of Kannon Bodhisattva have elegant faces and calm atmosphere, however, my(!!) Nyoinin Kannon had a little round face and cute atmosphere. I kept standing in front of her for a long time. 
Nyoirin Kannon with six arms is said to help all the people in need. Two of her six arms have orb jewel and falun and help you to defeat worldly desires. She also helps people not to get lost in the heavenly city. Nyoirin Kannon is said to make your dream come true such as wisdom, wealth, fortune and so on as you wish.
There are so many Buddhist statues in temples all over Japan. Each of them has a long history and a story. I hope you will find your favorite Buddhist statue in Japan. If you find one, she may let you return to Japan.
(For your reference, we are not allowed to take pictures of Buddhist statues, except some statues such as the Great Statue of Buddha at Todaiji Temple in Nara. Also, some Buddhist statues are opened to public only during limited period. Please refer to the official page of each temple.)
Did you like my article?
You can send me a message to get a customized itinerary and quotation for an unforgettable experience. Let's explore Japan Together.
I'll be waiting for you, so please check my profile and get your trip plan now