One of Kyoto's most famous sightseeing spots is Kiyomizu Dera Temple. It was designated a World Heritage Site in 1994 and hundreds of people visit every year from within Japan and from abroad. It's most famous feature is the humongous wooden veranda that juts out from the face of the hill, supported by tall wooden beams. There's a saying in Japan, "to jump off the Kiyomizu Dera veranda". It's the Japanese version of the English saying, "to take the plunge". It's said if you jump and land unscathed, your wish will come true. Before being banned in 1872, over 200 people literally took the plunge over the 13 meter drop to make their wish come true. Unbelievably, the survival rate was over 80%. Would you have the guts to "jump off the Kiyomizu Dera veranda"?




How to get to Kiyomizu Dera Temple
You can get to Kiyomizu Dera Temple by bus from JR Kyoto Station. Get on the #206 bus bound for Kitaoji bus terminal or the #100 bound for Ginkaku-ji. It's a 10 minute walk from Gojozaka bus stop. Or if you want to use the train, it's a 25 minute walk from Kiyomizu Gojo Station on the Keihan Railway Line. 
Address: 1-294, Kiyomizu, Higashiyama-ku, Kyoto-shi, Kyoto, 605-0862 
Hours: 6 am to 6 pm (6:30 pm during summer months). Kiyomizu Dera also has special times in spring, summer, and autumn when they're open at night until 9 pm as an illumination event. See the official website below for details.
Entrance fee: 400 yen (Nightime illumination 400 yen)
Website: https://www.kiyomizudera.or.jp/en/ 
History of Kiyomizu Dera
Kiyomizu Dera Temple's name means "pure water". The temple was named so because it was founded on the site of the Otowa Waterfall. It was first established in western Kyoto in the year 778 by Sakanoue no Tamamuro, though the present buildings were built in 1633. This huge wooden structure is an architectural miracle because not a single nail was used throughout the whole building. The temple was originally affiliated with the Hosso Sect of Buddhism, but in 1965 it severed its ties and now designates itself as the Kita-Hosso sect.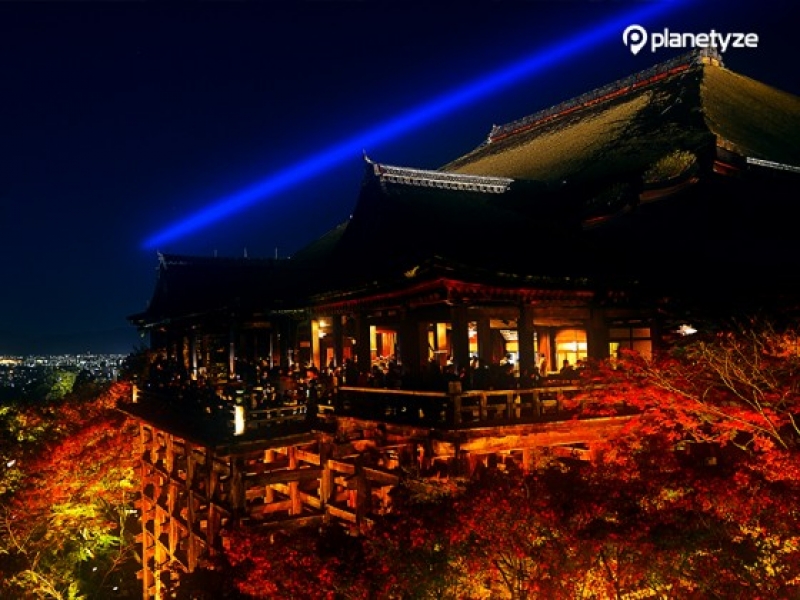 Things to See and Do at Kiyomizu Dera
Nio-Mon Gate
This is the main entrance of Kiyomizu Dera Temple. It's a magnificent 14 meter tall brightly colored gate. The original gate unfortunately burned down during a war in the late 1400s, but was rebuilt again in the 16th century. This centuries old gate was taken apart, refurbished, and put back together again in 2003 so the colors are back to the state they would have been long ago.
Sai-Mon Gate
"Sai-mon" means west gate in Japanese. It faces west so it's a great place to watch the sunset. It also has been called a gateway to the Buddhist Paradise since long ago. There is a simple meditation practice called "Nissokan", which is to watch the sun setting and envision the Paradise that all Buddhists strive to achieve. It's a way to look into one's soul that not only priests, but ordinary people can practice too.
Zuigu-do Hall 
This building was built in 1718 and enshrines a Bodhisattva. There are also deities from Buddhism as well as Shintoism that bring blessings in matchmaking, childbirth, and child rearing. 
Kiyomizu Dera Main Hall
This is the building with the famous veranda, or "stage", as it is called in Japanese. It's hosted many kabuki and noh theater performances in its history of over 100 years. And it's probably the most crowded part of the temple grounds. The sturdy building was built in 1633 without using a single nail and still stands strong to this day. The roof is now under renovation and will remain so until March 2020, but you can still enter the main hall.
Jishu Jinja Shrine
There is a small shrine on the grounds of Kiyomizu Dera temple. It may seem weird to people of other religions to see a temple and a shrine standing on the same grounds, but Buddhism and Shintoism are both accommodating religions and have existed in harmony from long ago. This shrine brings blessings in the area of love and relationships. It's the oldest shrine in Kyoto providing benefits in this particular aspect. On the path in front of the shrine, there are two big rocks standing about 10 feet apart. These rocks are called "en-musubi ishi" or love fortune stones. If you can get from one rock to the other with your eyes closed, it's said that you'll be able to find love. People on the sidelines can help you by calling out directions, but in this case, it'll mean you'll need an intermediary to find your love. It's lots of fun so try your luck! They also sell "omamori" or good luck charms to help you find true love or to bring blessings in other relationships like friendship.
Okuno-in Hall
This building was built in 1633 together with the main hall. And it also has a "stage" built in the same way as the main hall, without the use of a single nail. As it stands above the Kiyomizu Dera temple main hall, you'll be able to have a great view of the main hall's veranda as well as a panoramic view of the city of Kyoto. The cherry blossoms in the spring and the autumn colors surrounding the main hall are also best seen from here. It's the perfect spot to take pictures.
Otowa Waterfall
Walk down the stairs from the above Okuno-in Hall and you'll reach the Otowa Waterfall. This waterfall's clear waters is the origin of Kiyomizu Dera Temple's name. The water seeps out of the mountainside and is now directed to fall off the roof over people's heads in three separate streams. It is said that if you drink this water, your wish will come true. The three separate flows of water is believed to bring benefits in three different areas, success, love, and longevity. There are cups connected to long poles provided so that you can reach out and catch the water in the cup. To drink from all three is considered greedy, so you need to choose just one. Which one would you choose?
Kiyomizu-zaka 
As Kiyomizu-Dera temple is located on a mountainside, it's a tough trek up a long slopes path to get there. Fortunately, the slope is lined with souvenir shops and cafes making the trek up and down a fun filled experience. If you take your time looking at all the shops, you can easily spend an hour on the path before even getting to the temple itself. If you have the time, stop at a cafe to enjoy some Japanese sweets. This street is always crowded with tourists so if you don't want to get caught in the crowd, going early in the morning, around 9 am when the shops open, is a good idea.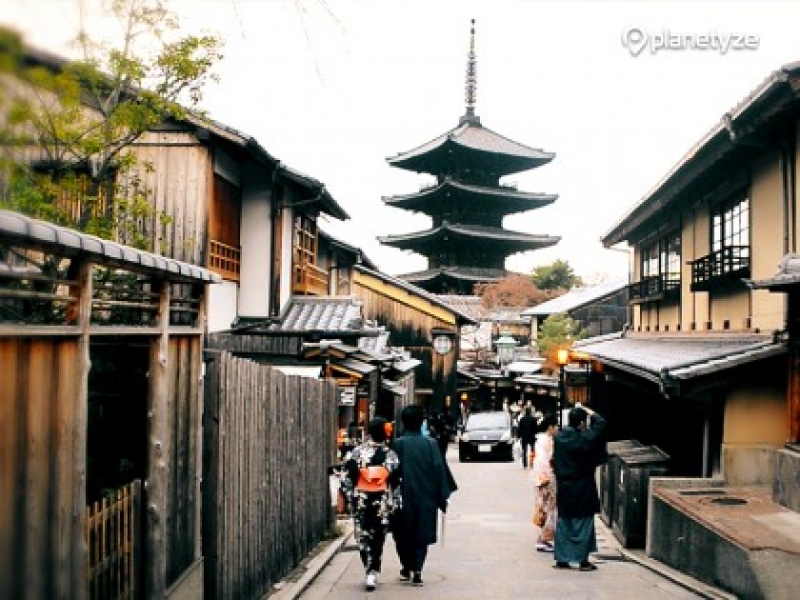 As one of the most famous sightseeing spots in Kyoto, Kiyomizu Dera temple is a must see spot. There are also many sightseeing spots located around this area in east Kyoto. Touring the area with a local guide should make this historical experience even better. Plus, Kyoto is a complicated city to sightsee by yourself, so if you're short on time, its best to leave the itinerary and the logistics up to the guides who know how to get around the city. 
TripleLights provides a service of matching customers with the best tour and guide for them. It's like a marketplace of guides from which you can choose. 
The guides create their own tours, so all of the tours are unique. You can also communicate directly with the guide to ask them questions or convey requests, for example the length of a tour, before actually booking a tour. 
Also, if you don't find the perfect tour on the list of tours, you can request a tour for half a day, a full day or more, listing what you'd like to see besides Kiyomizu Dera Temple or how much time you'd like to spend there. All of the guides will be able to see requests like this and the ones that are available on the date that you requested will recommend a tour itinerary just for you. So you'll be able to compare what several guides suggest and see which one looks to be the best tour plan for you. This way you can create your own customized tour for however long you'd like.
Most of the tours provided are walking tours, created so that you can use the public transportation system while sightseeing and get a feel for getting around the city. It's also an experience that will give you insight on how the local people move around during their daily lives. Since the city's public transportation is quite complicated with not only the trains but also the buses, the tour can be like a practice run for sightseeing on your own later on. However, there is also the option of hiring a private car and driver for your tour or just to get around. This is an option that people with disabilities or elderly people who aren't able to walk for hours on end find to be helpful, especially as Kyoto has many slopes to walk up. Catching a taxi is also fine, but sometimes you just can't find one, so having a car just for you is pretty convenient.
You can also look at the guides' profile videos to see what kind of person they are and also see the reviews they got from other customers. This is an important step in choosing a tour, as at most places you aren't able to choose your guide nor see what they look or sound like before the day of the tour. So choose the perfect guide and enjoy a tour of Kiyomizu Dera Temple and the historic city of Kyoto.
Recommended Blogs
Kinkakuji Temple, The Golden Pavilion: The Complete Guide Before You Go
Japan Travel - 7 Days Itinerary Around Tokyo, Kyoto, and Osaka
9 Best Kyoto Food Tours by Local Guides
10 Foods You Must Try in Osaka
Kyoto Day Trip from Tokyo: Complete Guide with Best Tour Options
Did you like my article?
You can send me a message to get a customized itinerary and quotation for an unforgettable experience. Let's explore Japan Together.
I'll be waiting for you, so please check my profile and get your trip plan now