The two primary tour spots in Japan are Kyoto and Tokyo that has been the center of Japanese cultural & historical time-honored spots.
However, there are other many tour spots for tourists coming to Japan , for example in between Tokyo area and Kyoto area of the Pacific side where they can experience Japan's off the beaten path, authentic and culturally immersive places.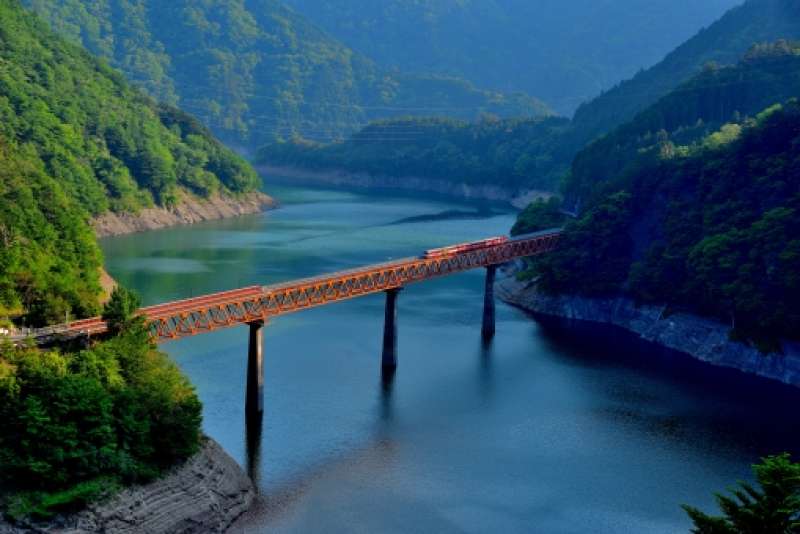 Following are some examples of above places.
Dogashima-cave:
The coast line of Dogashima consists of continuous magnificent cliffs.
Dogashima-Tensoudou-cave is the place where you can see mysterious blue cave whose ceiling is opened to sky as a hole and
light such as spotlights come into the dark cave on sunny day.  Then, the sea surface shine as emerald blue.
Dogashima-cave is located in South West of Izu Peninsula :
From Tokyo to Atami by Shinkansen: 50min.
From Atami to Shimoda by limited express: 85min.
From Shimoda to Dogashima by bus: 60min and 5min. walking

Shiraitonotaki-fall:
Shiraitonotaki-fall in Fujinomiya city of Shizuoka prefecture which is one of the elements of World culture Heritage of Mt.Fuji .
You can enjoy Shirataki-fall where you can see several hundreds of falls of large & small mixed on whole surface of winding precipices like silk thread.
Shiraitonotaki-fall is located in around 12km west-south from Mt.Fuji.
From Atami to Fujinomiya by train: 60min.
From Fujinomiya to Shiraitonotaki-fall by bus: 30min and 5min. walking

Okuooi-kojyo station:
You can enjoy the scenery of the area of Okuooi-kojyo station in Shizuoka prefecture.
This rail line is trolley train and the station is on south Alps line from where you can see fantastic scenery of lake and moutains.
Okuooi-kojyo station is located in around 30km north-west from Shizuoka-city.
From Fujinomiya to Shizuoka by limited express: 40min.
From Shizuoka to Kanaya by train: 30min.
From Kanaya to Sento by train: 75min.
From Sento to Okuooi-kojyo by train: 65min.

Nabana No Sato:
Nabano-No Sato is Japan's wildest light display location with using illumination located in Mie prefecture.
Nabana No Sato is located in 30min bus drive north from Nagoya-city.
From Shizuoka to Nagoya by Shinkansen: 80min.
From Nagoya to Nabana No Sato by bus: 30min.

Takeda castle:
Takeda castle is a historic landmark of stone walls remains in Hyogo prefecture which is the largest castle floating over clouds.
Takeda castle is located around 60km north from Himeji-city.
From Nagoya to Himeji by Shinkansen: 80min.
From Himeji to Takeda by train: 90min.
From Takeda station to Takeda castle by bus/20min. and walking/20min.

Himeji castle:
Himeji castle is the best castle of Japan located in Hyogo prefecture which is registered as World cultural Heritage in Japan.
Himeji-jo castle large keep which was built in 1609 is the center of the current style of this castle.
The architecture of this castle is the masterpieces of Japanese traditional technology which has been developed by lots of Japanese craftsmen.  Many civil engineering structures such as large keep, turret, castle gate, mud wall stone wall, moat and so-on has been well reserved. That is why this castle is historically very precious architecture.
Also, in parallel, the beauty of this castle is amazed by everyone who visit this castle. The castle is called by White Heron castle because the elegant figure of the castle resembles to a Heron flying away with spreading it's wings.

                                                                                                                                                                                              By Kashima
Did you like my article?
You can send me a message to get a customized itinerary and quotation for an unforgettable experience. Let's explore Japan Together.
I'll be waiting for you, so please check my profile and get your trip plan now