First on Jun. 5, Sugiike Matsuri at Sugiike natural reservoir in Ryotsu. 
 It's a mystic shrine ritual held at Sugiike(cedar pond), actually a spring water resevoir in a middle of a forest.
There is a tiny shrine by the reservoir and a dragon god, who is believed to be the God of Water in Japan, is enshrined.
Three kinds of sacred dances are offered to the god.
Fisrt, demon dance is performed to purify the whole area.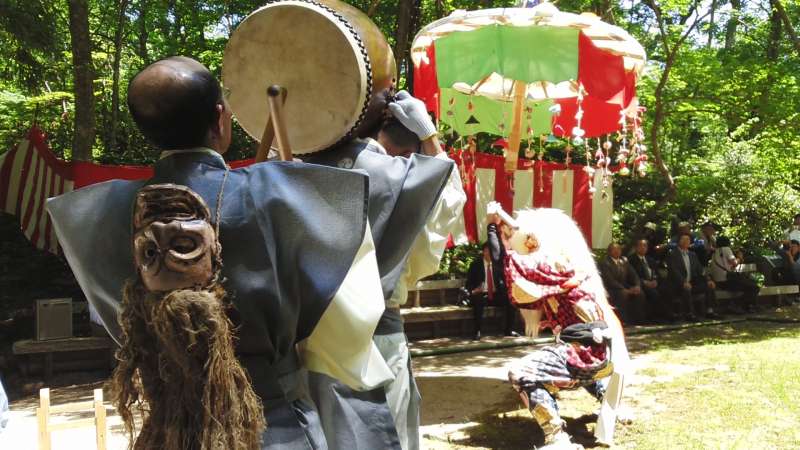 Then, three deers dance to tell a love story.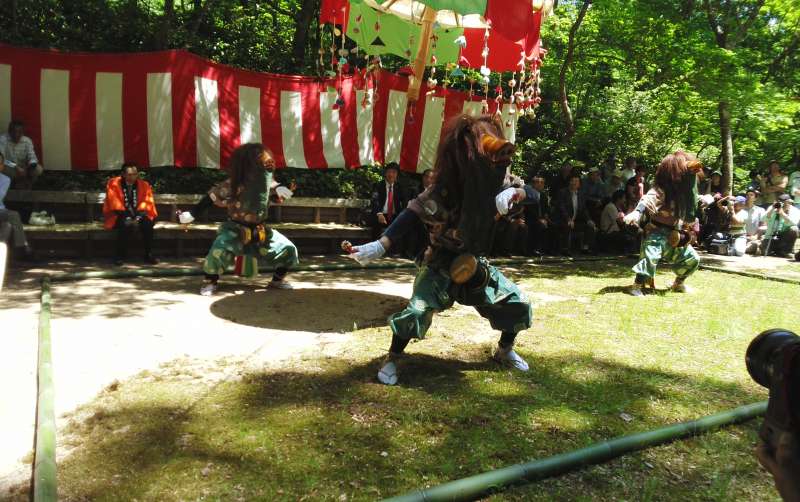 Finally, Hanagasa (flower hat) dance is performed to pray for an abundant harvest in autumn.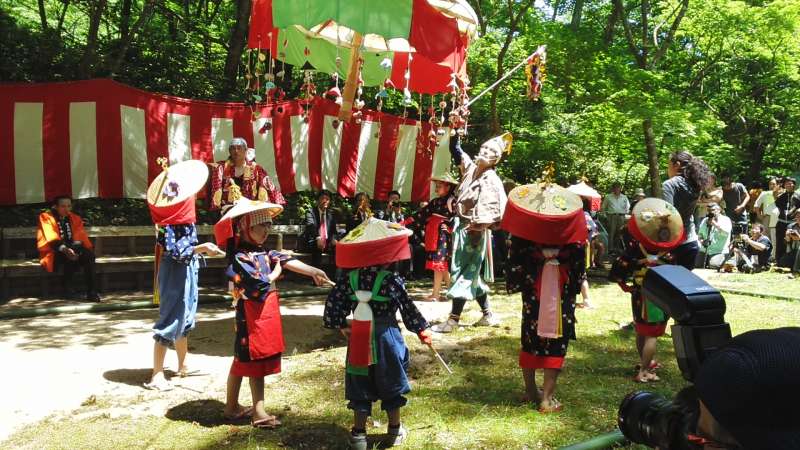 Yoi no Mai (dance at dusk) held on Jun. 4,5 in Aikawa.
This event is held from 7 p.m. to 9 p.m. along the Kyomachi street to the Sado Magistrate's Office.
More than 20 groups in and outside of Sado Island dance throuth the street with the light of dimly lit lanterns.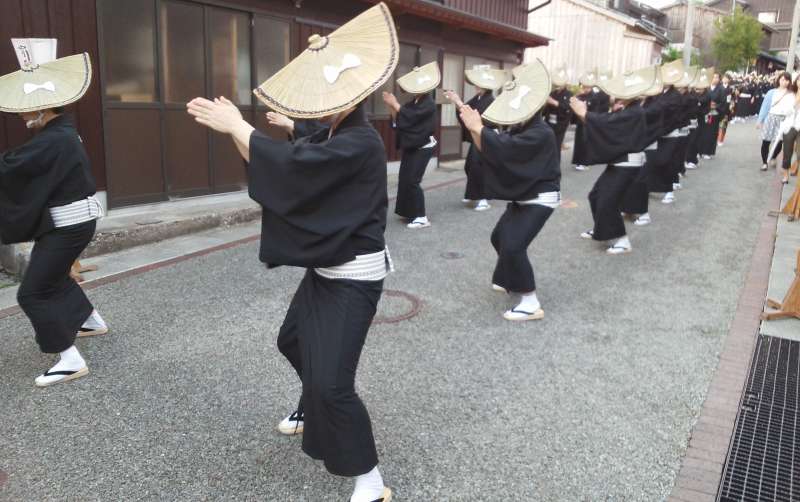 They dance to the tune of a local folksong called Aikawa Ondo.  The dancers' manly movements match with the dynamic tune of  Aikawa Ondo.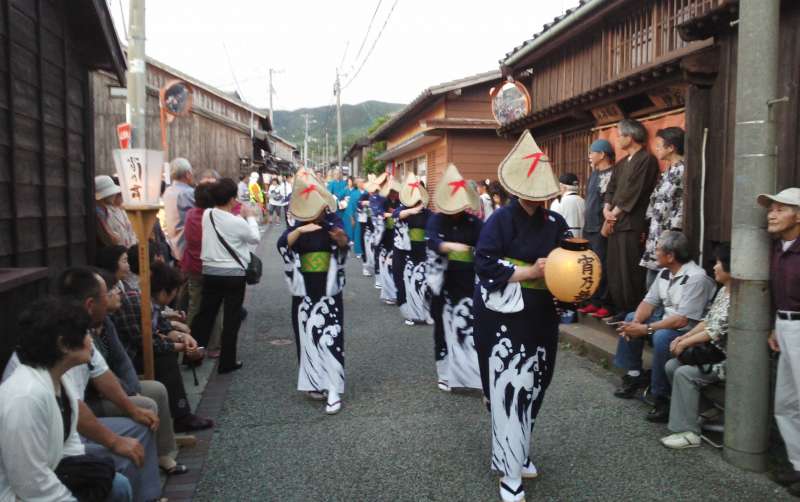 In each group, singers and instrument players accompany the dancers.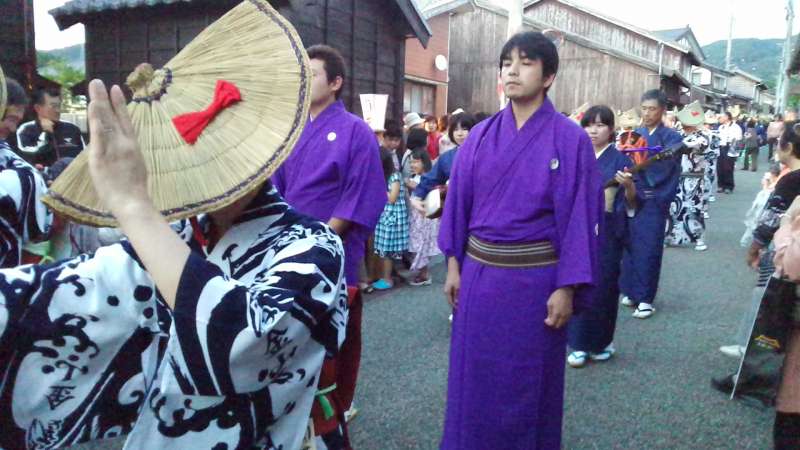 When they finally reach the Magistate's Office, the sky turns into deep blue.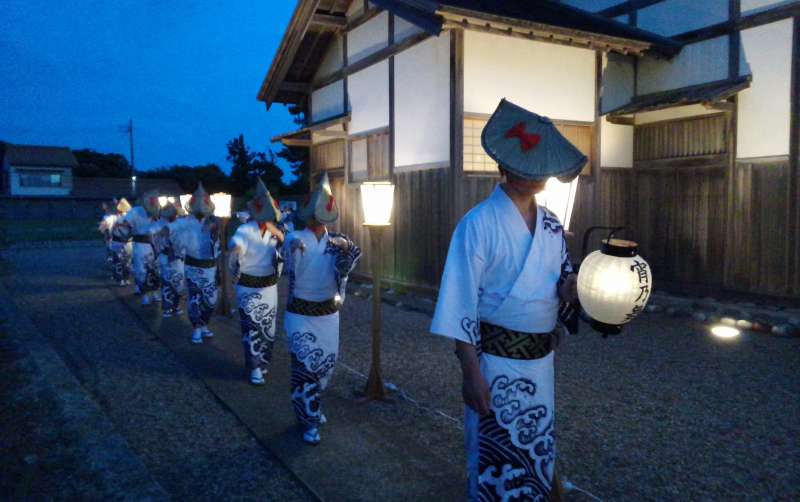 Kanzo Matsuri at Onogame on Jun. 4,5.
 Onogame, which means a huge turtle, is a huge sole rock with the height of about 200 meters.
From late May to mid June, "Tobishima Kanzo", a kind of day lily blooms one after another and makes the whole scenery so impressive.
*Sorry for this less impressive photo!  Please access "Planetyze.com" and get more attractive photos of Onogame!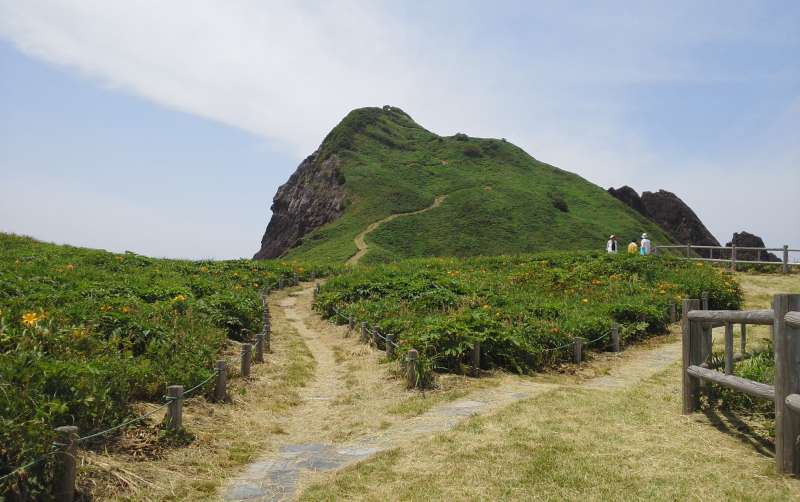 This is Sawasaki Lighthouse, located in the southern tip of Sado.
 You can see lots of  Kanzo day lilies in full bloom.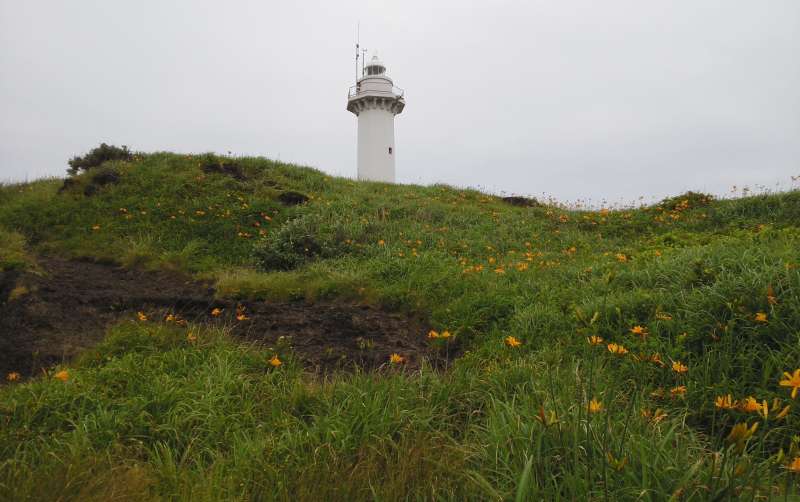 Hamochi Matsuri held on Jun. 15.
 The sacred lion head is placed with offerings at a host's house a day before the festival.

 On the festival day, the lion visits houses in the community, from morning till late at night.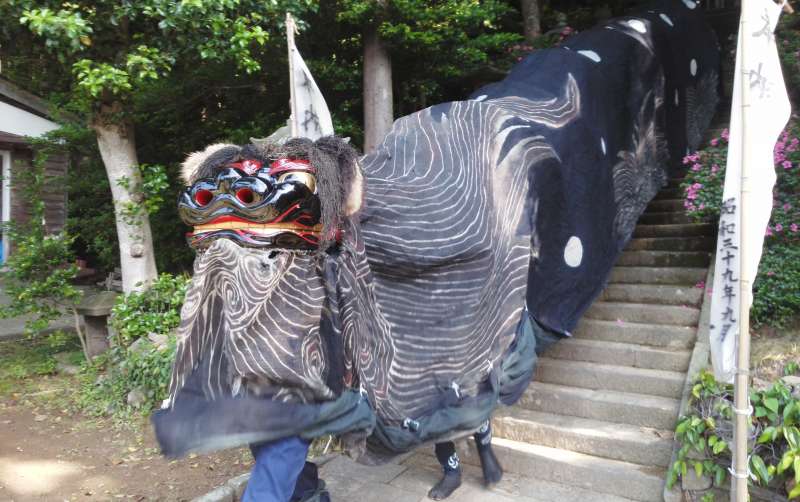 "Tsuburosashi" is an unique and comical dance to pray for fertility.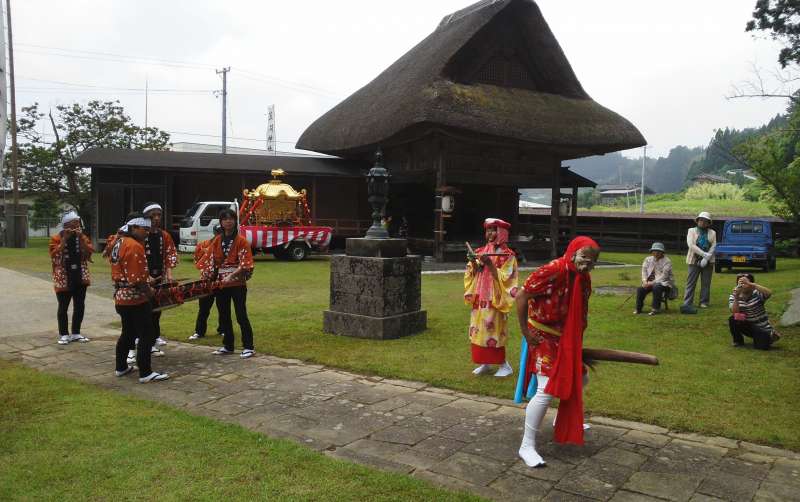 This is "Wakashu Daiko"  performed by young people in Hamochi.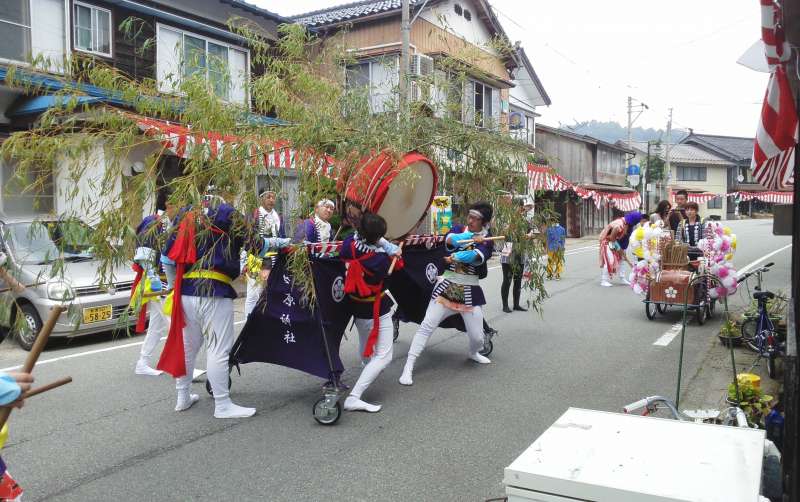 Sazae Matsuri (turban shell festival) on Jun.19 in Ogi.
Sazae is one of the popular seashells in Japan. With several hundreds yen, you can try sazae grab bag!
 You can enjoy free seafood soup, traditional performances, tub boats race and more.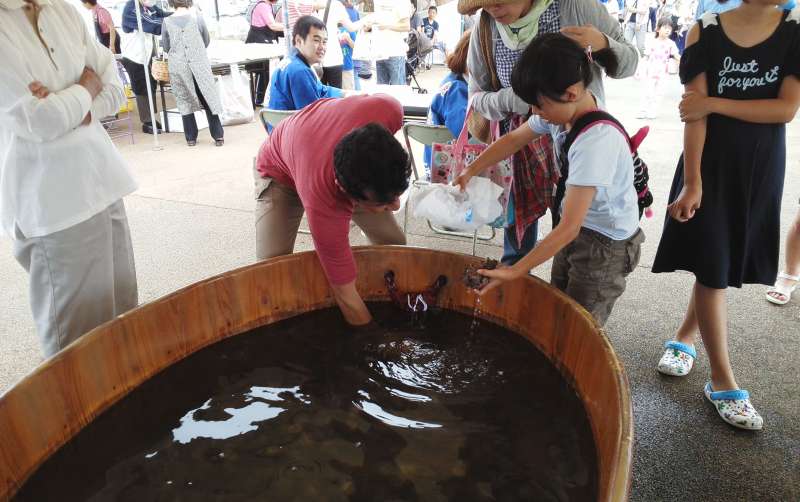 Chinowa Matsuri in Ogi on Jun.30.
"Chinowa" is a big wreath made of Japanese pampas grass called Kaya.
You walk through this wreath  and you will be healthy for a year.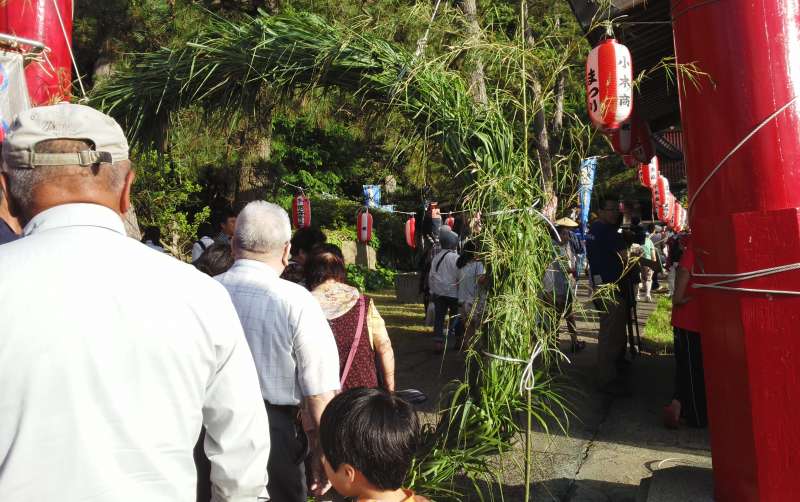 Noh performances in June
Of about 100 Noh stages in Japan, there are 35 of them in Sado Island!
Jun. 4   Shiizaki Suwa Shrine                                       7:30 p.m.
Jun. 5   Daizen shrine   * Noh and Kyogen                        7 p.m.
Jun.12  Ushio Shrine                                                          7 p.m.
Jun.15  Kusakari Shrine                                                7:30 p.m. 
Jun.18  Kasuga Shrine                                                  7:30 p.m.
             Shohoji Temple  *candlelit Nor performance    6:30 p.m.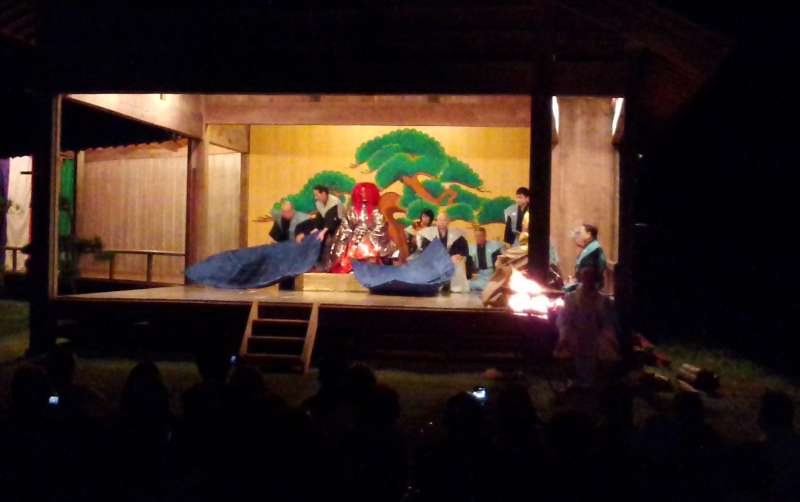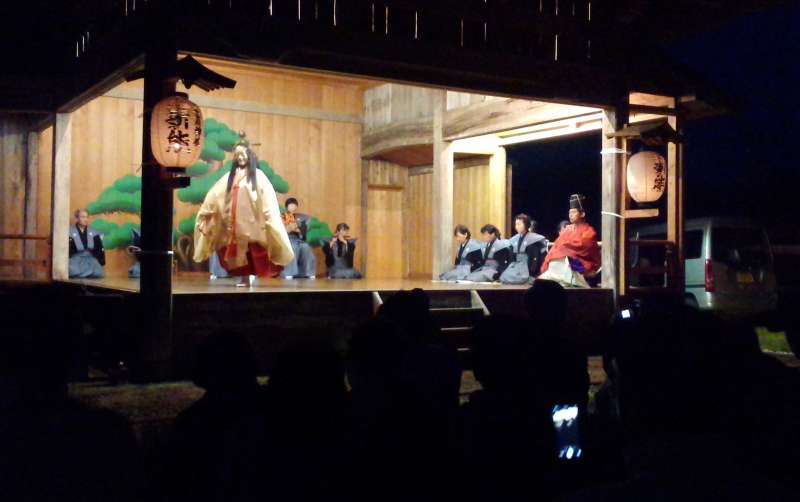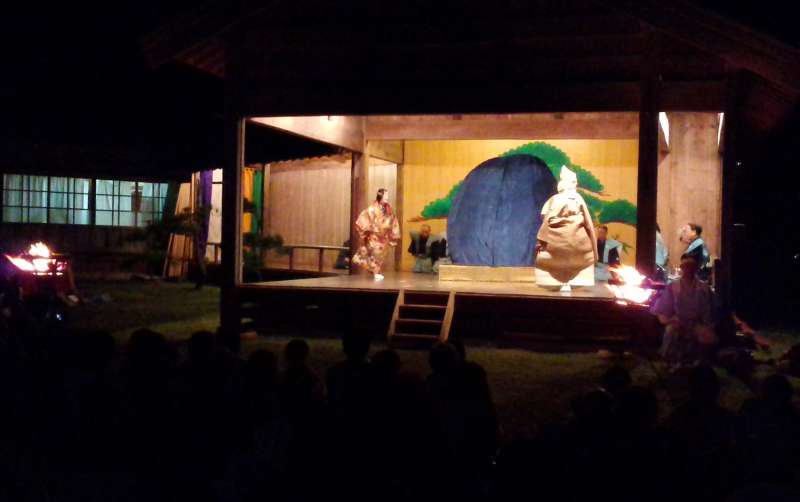 Men, women,  children, high school students, farmers, teachers, company employees, pensioners all perform Noh theater in Sado!
For more information about these events, please visit Sado Tourist Information website. 
Did you like my article?
You can send me a message to get a customized itinerary and quotation for an unforgettable experience. Let's explore Japan Together.
I'll be waiting for you, so please check my profile and get your trip plan now