I would like to introduce Engyoji temple in Hyogo/Himeji city where you can feel Buddhism temple atmosphere. The place was the filming location of the famous Hollywood movie of "Last Samurai" and Japanese large-scale historical drama.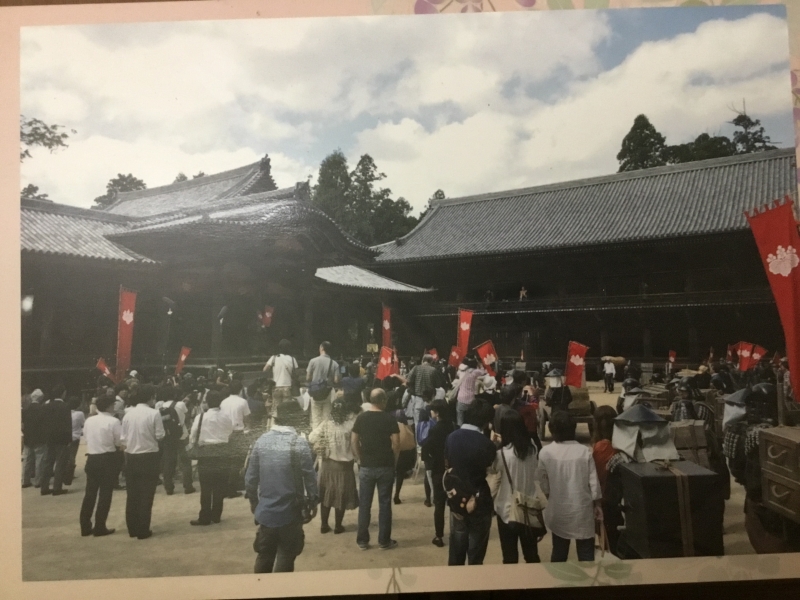 Engyoji temple was founded in 966 of Heian era as esoteric Tendai sect.
The history of Kyoto has started from the establishment of Heiankyo-capital in 794 which Emperor Kanmu handled. The transfer of capital usually occurs when the way of policy must be changed. The name of the era is called Heian-era (794-1185).  During this time-flame, two genius Buddhists (Saicho & Kukai) brought back esoteric Buddhism to Japan after they learned that in China.
The doctrine of Tendai sect was founded by Saicho in 805 and Shingon sect by Kukai in 806.
Hieizan Enryakuji temple is the head temple of Tendai sect.
Engyoji temple which is called as the west side of Hieizan Enryakuji temple is located around 6km north-west from Himeji castle. The altitude of the temple is 371 meter on the top of Shoshazan mountain and the way to reach there is to take Ropeway from the foot to the entrance path and to take a special bus to move to Maniden temple.
 This temple is the 27th place of thirty-three holy places in the Kansai region of Japan for the Goddess of Mercy pilgrimages. Lots of pilgrim all over Japan come to this temple. You can ride Ropeway from the foot of the mountain to entrance office with 5 minutes. The entrance of this temple is located 80 meters from the Ropeway mountain top station.  It will take around 30 minutes from the entrance by walking through.  The precincts of Enkyoji temple cover all area of Shoshazan mountain top and very wide.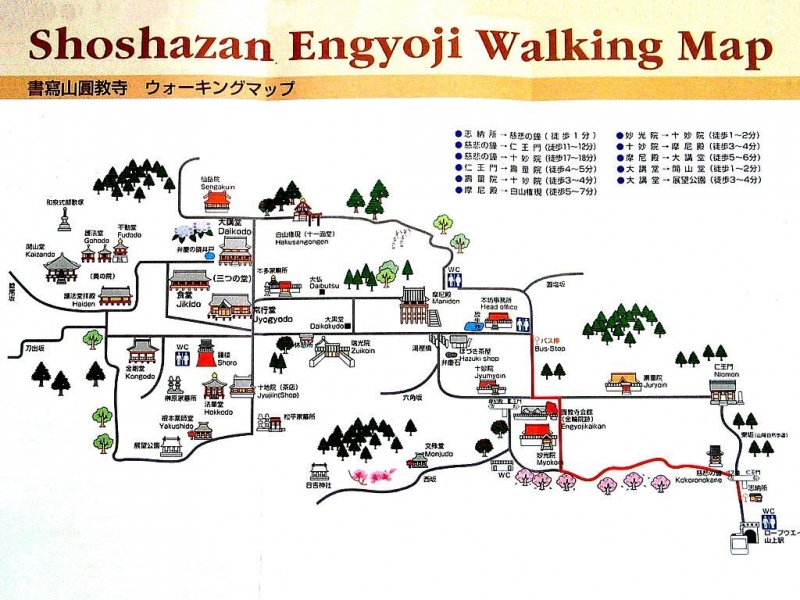 It will take around 12 minutes from Ropeway top mountain station to Niomon. The precincts are divided mainly by three as follows. Area1: Higashitani from Niomon to Jyumyoin / It will take around 8 minutes.
Area2: Nakatani from Jyumyoji to Maniden / It will take around 4 minutes.
Area3: Nishitani from Maniden to inner shrine including Daikodo, Jyogyodo and Kaizando: It will take around 8 minutes.
Each area has different atmosphere. Please refer above map of Engyoji temple.
To shorten to reach main spots of Atrea3, you can take a special bus from the entrance office to Maniden by around 10 minutes.
I recommend you to take the bus.

The area of Nishitani is the place where "Last Samurai" of Hollywood movie was filmed. The director of the movie was in a minute impressed about the area and decided to take the movie there.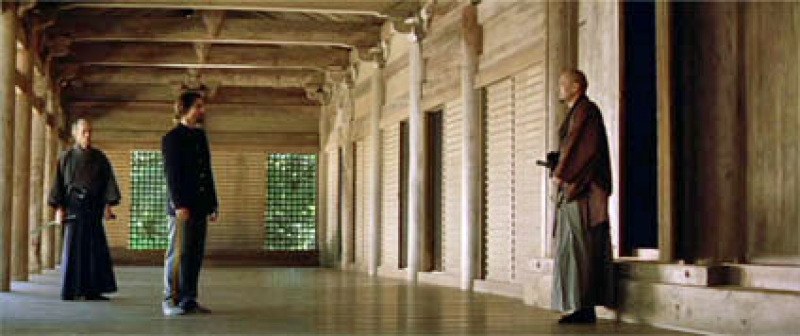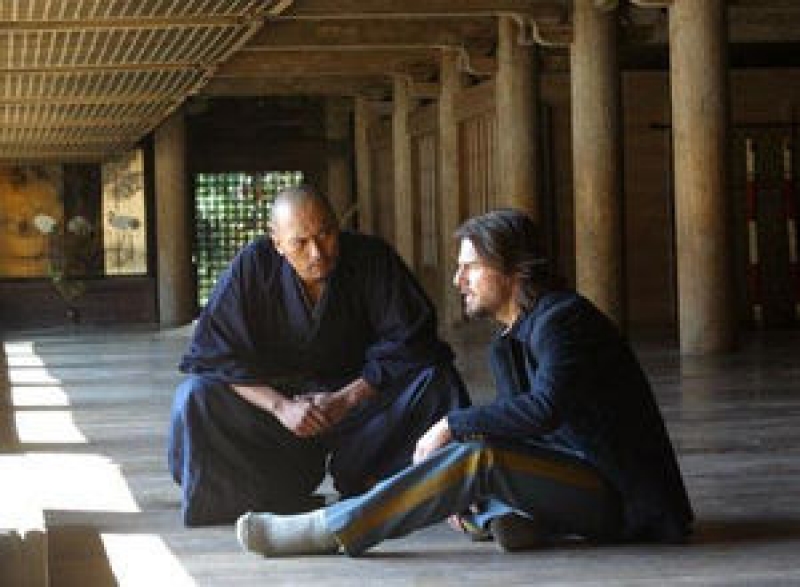 Many craftsmen in Japan at the period were gathered and they built those temple buildings and arts such as Buddhism statue and paintings by using most advanced technology at the time.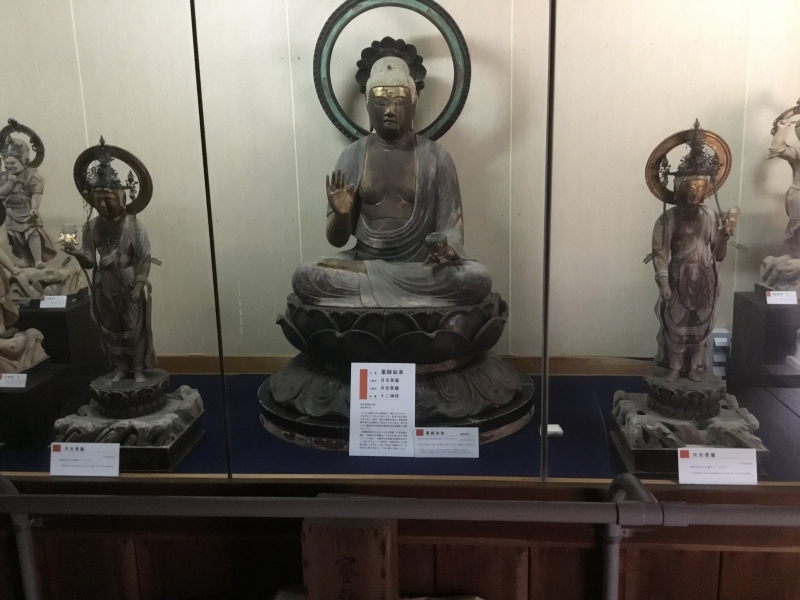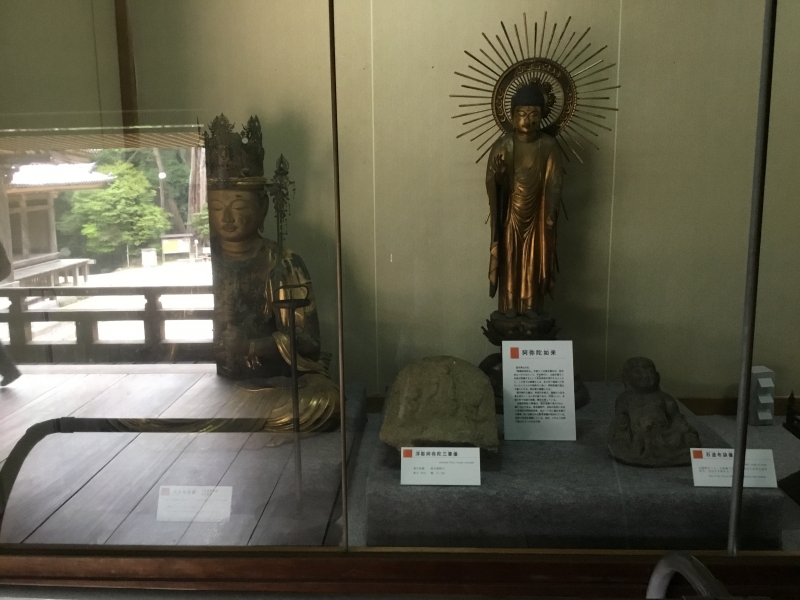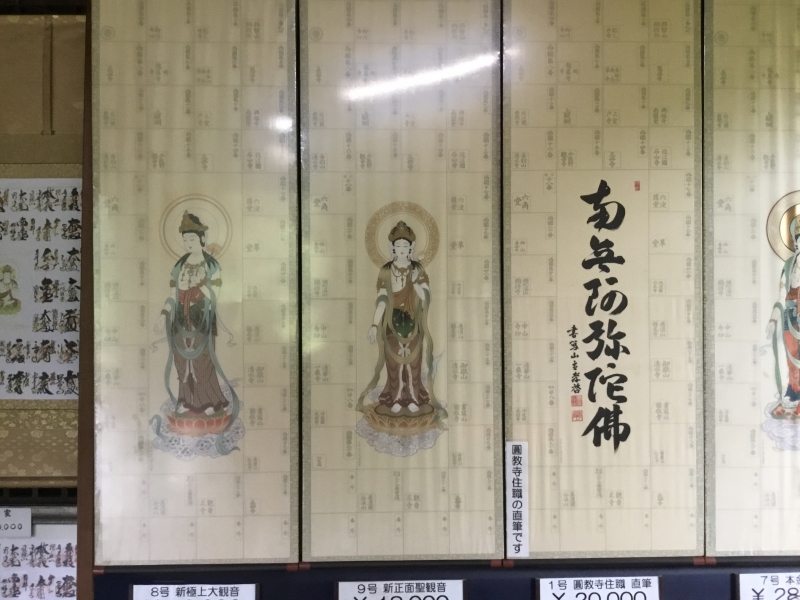 Historical important events and restored history of this Engyoji temple are as follows.
This Engyoji temple is located near from Himeji castle by around 6km north-west from there.  As you may know, Himeji castle is historically very important as the basement for Hideyoshi Toyotomi of top Samurai worriers to unify Japan by fighting with lots of local feudal loads in West Japan.  Due to the location near from Himeji castle and the geographical advantage, this temple had been once used as the headquarters for Hideyoshi to fight with western Japan local area feudal loads for him to unify all over Japan.  From this temple,  main hostile camp could be clearly viewed from the summit of the mountain. As the result, it had been damaged due to the soldiers violent activities.  Hideyoshi also had confiscated lots of the temple's estates.
Afterwards, Japanese politics had confiscated all the temple's estates after Meiji restoration (1868).  During World War2, it had been run to ruin.  However, it has been restored due to Cultural Properties Protection Law established after the World War2. 
Now, this temple has become very famous with the harmony between historical importance and nature.

Followings are brief explanation about main buildings in Engyoji temple.
1. Maniden (Main hall):
This building was established in 970 by Saint Seiku.  He made Kannon statue carved inside a Cherry tree and built polls surrounding the tree with a roof attached. That is why the temple was located on the mountainside with a large veranda jutting out over the hillside. This building was burned down several times and restored in 1933 as current figure.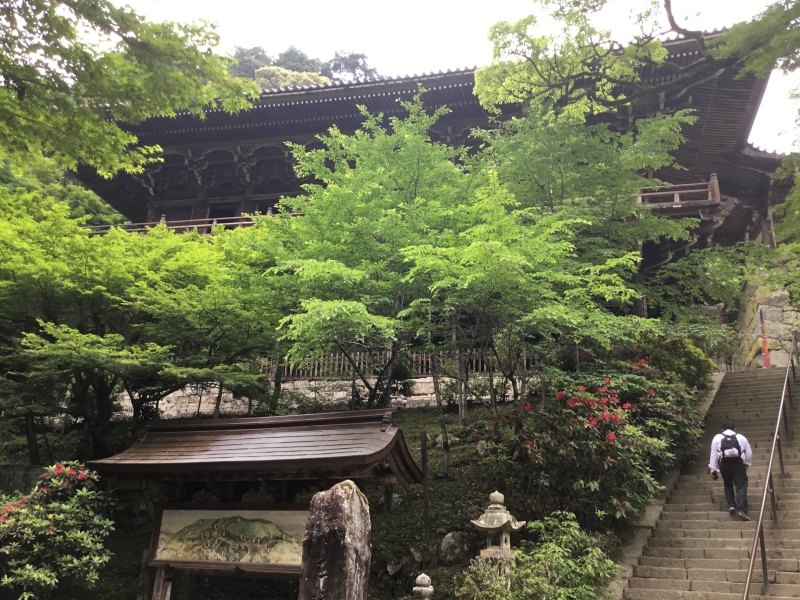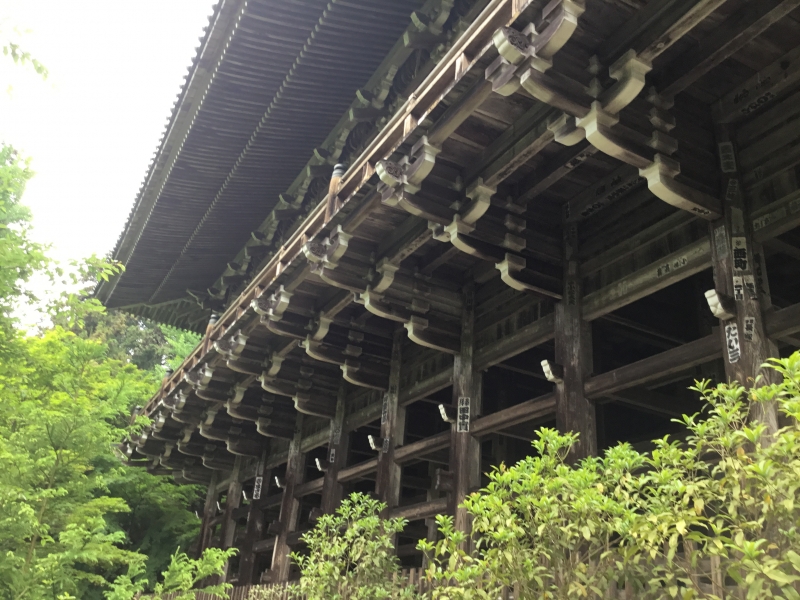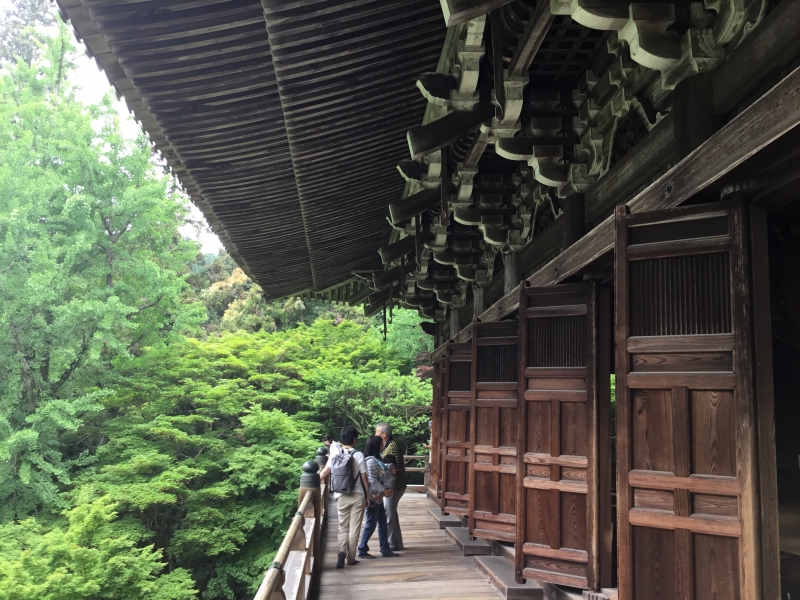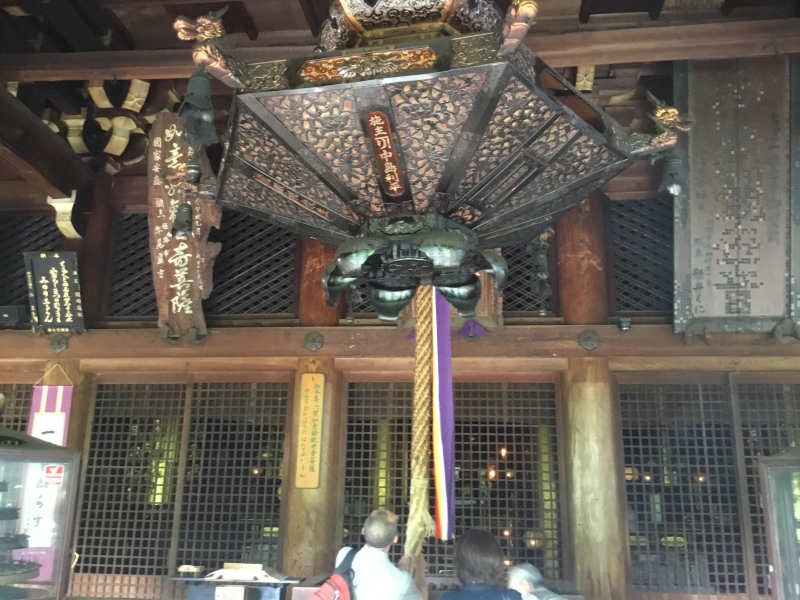 MitsunoDo: (Daikodo, Jikido, Jyogyodo)
a) Daikodo: Daikodo is the main hall of Engyoji temple and established in 986. Current building is restored in Muromachi era of 15th century. Many monks had listened to the sutra lecture, executed Zazen and discussion at this building. The principle image is Gautama Buddha with flanking image as Fugen Bosatsu and Monju Bosatsu.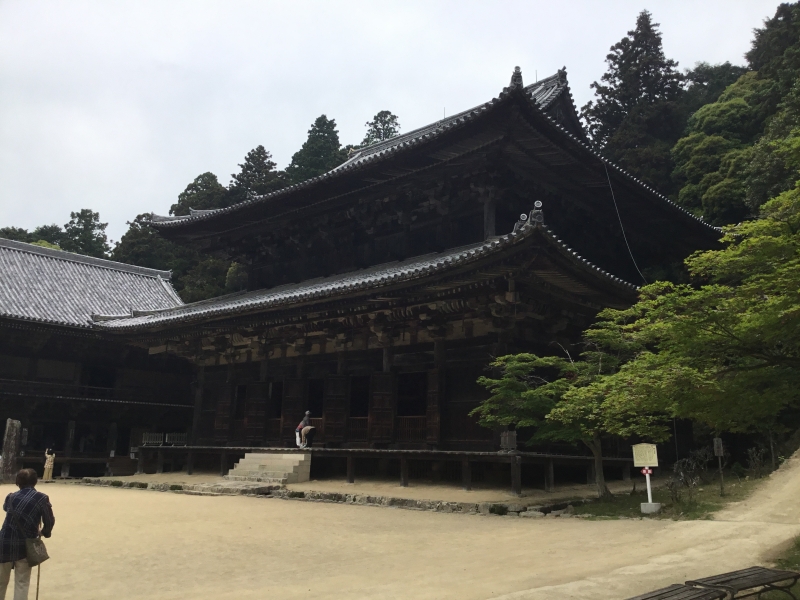 b) Jikido: Jikido was established in 1174 and it was used as the place where trainee monks had sleep and eat.
      The principle image is   Monju Bosatsu.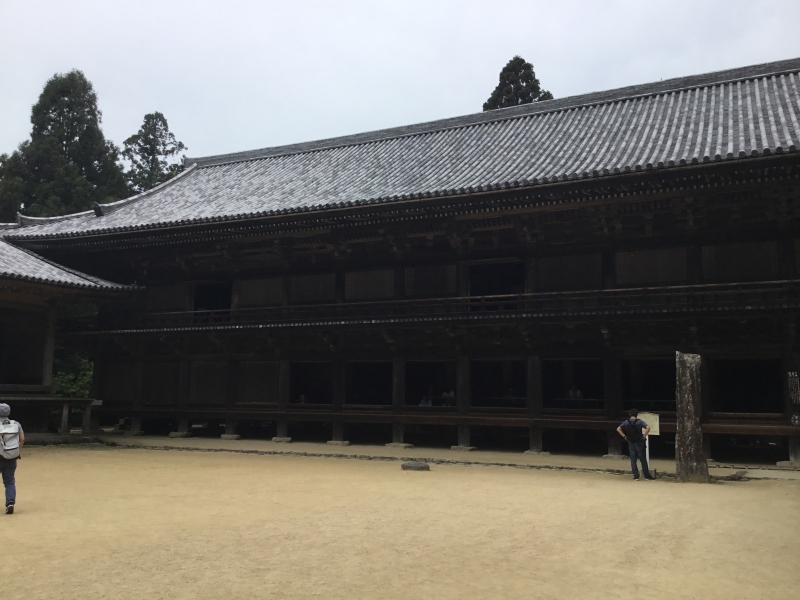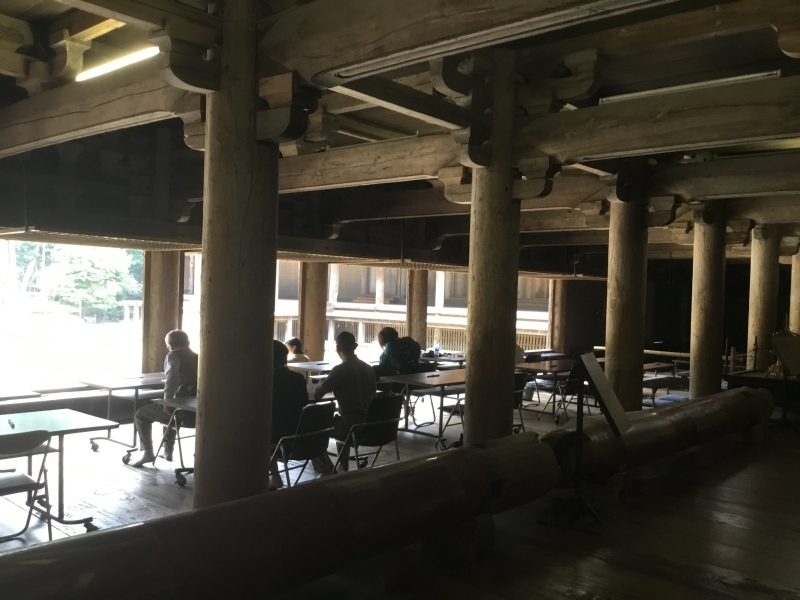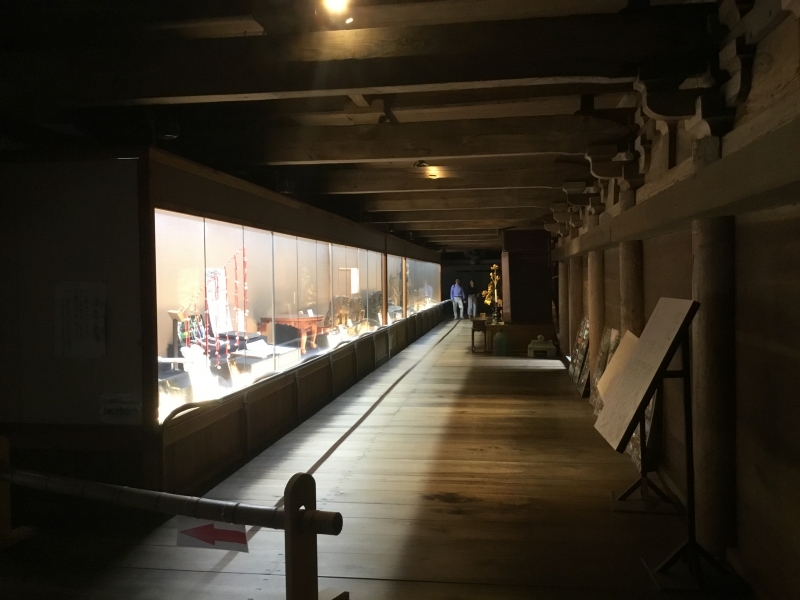 c) Jyogyodo:
The year of establishment of Jyogyodo is unknown.  The stage facing to Daikodo inside this building was prepared where dancing and Japanese court music had been held to dedicate Gautama Buddha. The principle image of this buiding is Amitaba.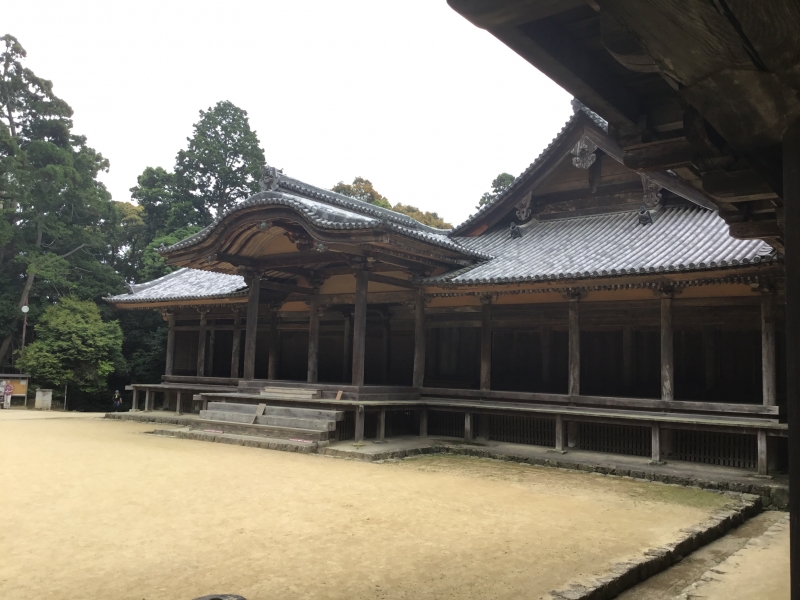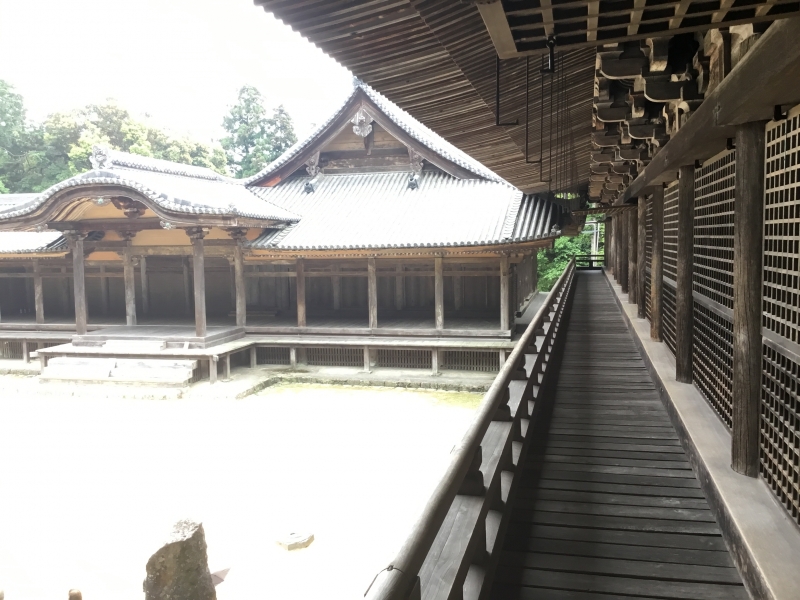 Mitsunodo:
These three buildings (Daikodo, Jikido, Jyogyodo) are lined up with U-shaped and the generic name of these three buildings are called as Mitsunodo.  The center space of the U-shaped building is perfectly cleaned surrounded by three buildings and make people felt strange by the calm and mysterious atmosphere.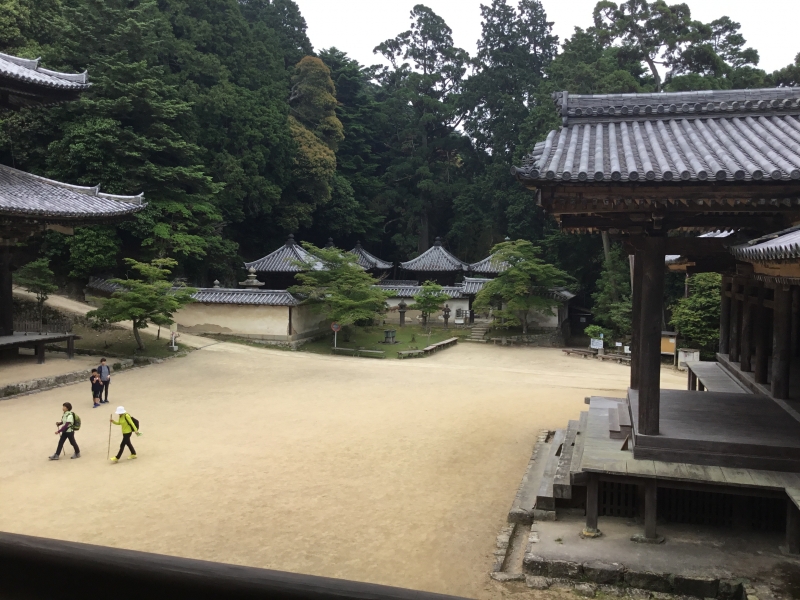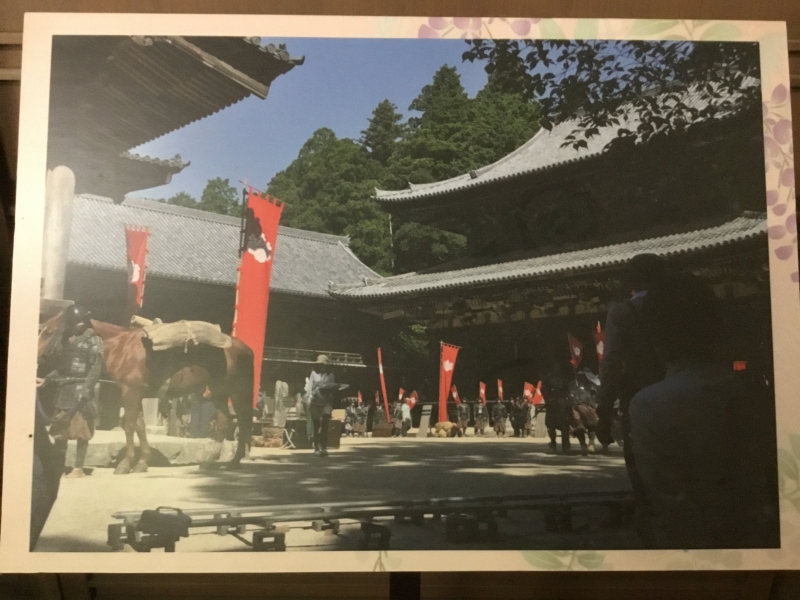 If you would like to visit theses spots, please contact me through below URL which show my tour proposal registered in Triplelights.
One Day Full Enjoyment Tour of Engyoji Temple and Koko-en Garden in Himeji
                                                                                                                                                     
                                                                                                                                                                     by Kashima

Did you like my article?
You can send me a message to get a customized itinerary and quotation for an unforgettable experience. Let's explore Japan Together.
I'll be waiting for you, so please check my profile and get your trip plan now